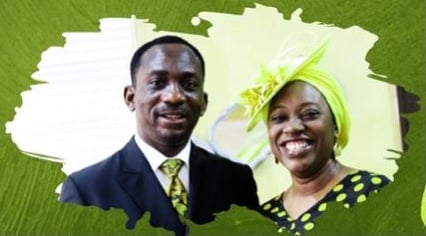 Dunamis' Seeds Of Destiny 26 October 2021 Devotional By Dr. Paul Enenche — Going Up By Uprightness
Click HERE for Previous MESSAGES by Pastor Paul Enenche
TOPIC: Going Up By Uprightness (Seeds Of Destiny 26 October 2021)
Uprightness is key to upliftment. To be upright is to end right up.
SCRIPTURE: Righteousness exalts a nation, but sin is a disgrace to any people. Proverbs 14:34 (NIV).
THOUGHT FOR THE DAY: Uprightness is key to upliftment. To be upright is to end right up.
It has been confirmed that uprightness of life is key to destiny fulfilment. Uprightness is key to greatness in life. Uprightness is key to upliftment. To be upright is to end right up.
Also Read: Open Heaven 26 October 2021 – Godly Sorrow Leads To Salvation
The Scripture gives us examples of men of uprightness and integrity. These were men who were positively affected by their uprightness in handling material or financial resources. We shall be looking at two of them today:
Samuel.
1 Samuel 12:3, 4 says,
Behold, here I am: witness against me before the Lord, and before his anointed: whose ox have I taken? or whose ass have I taken? or whom have I defrauded? whom have I oppressed? or of whose hand have I received any bribe to blind mine eyes therewith? and I will restore it you. And they said, Thou hast not defrauded us, nor oppressed us, neither hast thou taken ought of any man's hand.
In essence, Samuel seemed to be challenging the whole assembly of the people of Israel that anyone among them who felt he had cheated him or her should openly walk forward and say it, but there was none. That was financial integrity and probity; it guarantees the future.
Daniel
Daniel was another person in scripture who maintained the lifestyle of integrity and uprightness. Daniel was in charge of the king's affairs but there was no damage Daniel 6:1-2).
The only person the king could find to take charge of the principal affairs of the empire, including the treasury and nothing got missing or damaged was Daniel. No wonder he ended as a great man.
Beloved, maintain the lifestyle of integrity. Refuse to stain your garment with iniquity.
Remember this: Uprightness is key to upliftment. To be upright is to end right up.
ASSIGNMENTS:
Maintain the lifestyle of integrity always.
Avoid the lifestyle of compromise.
PRAYER: I receive the grace to walk in uprightness always. Deliver me from sin and its filthiness, Lord, in Jesus' Name.
FOR FURTHER UNDERSTANDING, GET THIS MESSAGE: THE TRAGEDY OF EVIL MONEY
QUOTE: Integrity compels audacity and iniquity invites calamity. Culled from "15 KINGDOM STRATEGIES FOR SURVIVAL" by Dr Paul Enenche.
DAILY READING: Luke 16-18
REFLECTION: Righteousness exalts, unrighteousness abases. You cannot play with pigs and fly with eagles at the same time. There is only one choice to make.
PROPHETIC DECLARATION/WORD: As you take a stand for God, He shall cause you to stand out in life in Jesus' Name.
Today's devotional was written by Pastor Paul Enenche of the Dunamis International Gospel Centre (DIGC), headquartered at Abuja, Nigeria, with Pastor Paul and Becky Enenche, as the Senior Pastors. It is a power-packed arena where God's Presence, Principles and Power are at work for the salvation, healing and restoration of human destinies and dignities
Ambydennis Notice Board: Until you are born again, God ever abiding presence will never be with you. You must be born again to enjoy continuous victory. Please say the displayed prayer below in faith:
Lord Jesus, come into my life. I accept You as my Lord and Personal Saviour. I believe in my heart You died and rose from the dead to save me. Thank You Lord for saving me, in Jesus name Amen.
If you just prayed the prayer of salvation online please send your testimonies and prayer request to info@dunamisgospel.org, +234-803-3144-509, 234-803-320-0320.
Seeds Of Destiny 26 October 2021 — Going Up By Uprightness
Reviewed by
AmbyDennis
on
October 26, 2021
Rating: