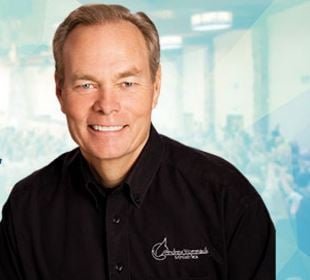 Andrew Wommack Devotional 17 December 2021 – Let God's Peace Lead You
Click HERE for Previous Devotional
Topic: Let God's Peace Lead You
Luke 24:36 "And as they thus spake, Jesus himself stood in the midst of them, and saith unto them, Peace be unto you."
Just as every sport has disputes that must be settled by the officials, the peace of God is the umpire that settles all disputes as to what the will of God is for our lives. We must learn to listen to and heed the peace of God in our hearts.
God's peace is something that every born-again believer has. It's a fruit of the Spirit. That peace is always umpiring; we just don't always pay attention. How many times have you acted contrary to the peace in your heart and afterwards, you experience disaster? You say, "I never did feel good about that." That was the peace of God umpiring, but we chose to play by our own rules.
There are some things we can do to facilitate the peace of God umpiring in our hearts. First, consider ALL the options. Many wrong decisions have been made because not all the options were considered. Don't let fear rule out God's possibilities. Next, use your imagination to explore what will happen with each choice. You should be able to discern a greater peace as you consider the option the Lord would have you take. That is not to say that there will be total peace with any of the choices. In your spirit there will be total peace over the right choice, but we aren't always totally in the Spirit and it is not unusual for some turmoil to exist. Just as an umpire has to make a call, be bold enough to follow the direction that gives you the most peace.
The rudder on a ship can't go any direction until the ship is moving. The ship doesn't have to be going full steam ahead for the rudder to work, but it does have to be moving. Likewise, we have to act before the peace of God will give us perfect direction. Even if you make a mistake, you will have made it in faith, trying to follow the peace of God in your heart. The Lord can bless a wrong decision made in faith from a pure heart, more than He can bless indecision (Rom. 14:23).
This message was written by The Association of Related Ministries International (ARMI) is an extension of Andrew Wommack Ministries (AWM). ARMI is a unique partnership committed to providing resources to help like-minded ministers succeed in a spirit of excellence and to draw from the experience and expertise of both the AWM and Charis Bible College staff. (www.awmi.net).
Ambydennis Notice Board: Until you are born again, God ever abiding presence will never be with you. You must be born again to enjoy continuous victory. Please say the displayed prayer below in faith:
Lord Jesus, come into my life. I accept You as my Lord and Personal Saviour. I believe in my heart You died and rose from the dead to save me. Thank You Lord for saving me, in Jesus name Amen.
If you just prayed the prayer of salvation online please send your testimonies and prayer request to info@awmi.net, 1-719-635-1111.
Andrew Wommack Devotional 17 December 2021 – Let God's Peace Lead You
Reviewed by
AmbyDennis
on
December 17, 2021
Rating: