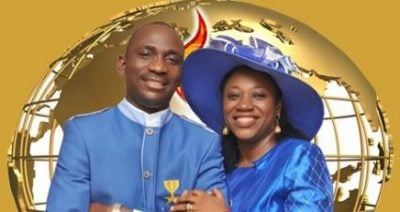 Dunamis Seeds Of Destiny 17 May 2022 Devotional By Dr. Paul Enenche: The Necessity Of Soul Winning
Click HERE for Previous MESSAGES by Pastor Paul Enenche
TOPIC: The Necessity Of Soul Winning (Seeds Of Destiny 17 May 2022)
SCRIPTURE: I say unto you, that likewise JOY shall be in heaven over one sinner that repenteth, more than over ninety and nine just persons which need no repentance. Luke 15:7
THOUGHT FOR THE DAY: You cannot sow joy in heaven and not reap joy on earth.
Seeds Of Destiny For Today MESSAGE:
Soul-winning is a very crucial aspect of dedicated Christianity. No Christian can be confirmed to be dedicated who is not interested in wining souls into the Kingdom. Soul-winning was the bedrock of the apostolic Christianity.
When we came to the Lord in the late 70s and early 80s, it was almost a sin for a Christian to go out without evangelism tracts in his pocket. You would feel as if you have committed a sin for going out without tracts in your pocket. Paul the apostle said, "Woe is me if I preach not the gospel" (1 Corinthians 9:16).
Also Read: Seeds Of Destiny 16 May 2022: Maximising Time In God's Presence
The question is: why is soul-winning necessary?
The salvation of souls is the priority of God. It is God's pre-eminent priority. Soul-winning is the heartbeat of God (Ezekiel 3:11, 2Peter 3:9).
The salvation of souls is a trigger for joy in heaven (Luke 15:7, 10). For every sinner that repents, there is jubilation in heaven. You cannot sow joy in heaven and not reap joy on earth.
The salvation of souls is the reward for the travails of our Master. As we win souls, we are ensuring that our Master, Jesus Christ did not suffer on the Cross of Calvary in vain (Isaiah 53:11).
The salvation of souls is the rescue of multitudes from the torment of hell fire (Psalm 9:17). Hell is real; and everyone who does not know Jesus is on the way to hell.
The salvation of multitudes brings honour to the Almighty (Proverbs 14:28). God is honoured when multitudes gather.
Beloved, be committed to soul-winning, and God will be committed to meeting your needs.
Remember this: You cannot sow joy in heaven and not reap joy on earth.
ASSIGNMENT(S):
Ensure that at least a soul is added to the Kingdom on your account every month.
Pray for the establishment of every soul won into the Kingdom.
Trust God for the termination of every challenge around your life as you go out for souls.
PRAYER: Lord, I receive the grace to be committed in my soul-winning effort. Help me feel a portion Jesus' love, burden and passion for mankind, Lord, in Jesus' Name.
FOR FURTHER UNDERSTANDING, GET THIS MESSAGE: DEDICATION TO GOD IN SOUL-WINNING.
DAILY BIBLE READING: Psalm 25-27
QUOTE: Our destiny as a church is to colonize our generation, to disciple our generation, to change culture. Culled from "MAKING FULL PROOF OF MINISTRY" by Dr Paul Enenche.
AMAZING FACT: People who laugh a lot are healthier than those who don't.
PROPHETIC DECLARATION/WORD: Fresh passion for souls is released on you now in Jesus Name.
Also Read: Open Heaven 17 May 2022 – The God Of Isaac
Today's devotional was written by Pastor Paul Enenche of the Dunamis International Gospel Centre (DIGC), headquartered at Abuja, Nigeria, with Pastor Paul and Becky Enenche, as the Senior Pastors. It is a power-packed arena where God's Presence, Principles and Power are at work for the salvation, healing and restoration of human destinies and dignities.
Ambydennis Notice Board: Until you are born again, God ever abiding presence will never be with you. You must be born again to enjoy continuous victory. Please say the displayed prayer below in faith:
Lord Jesus, come into my life. I accept You as my Lord and Personal Saviour. I believe in my heart You died and rose from the dead to save me. Thank You Lord for saving me, in Jesus name Amen.
If you just prayed the prayer of salvation online please send your testimonies and prayer request to info@dunamisgospel.org, +234-803-3144-509, 234-803-320-0320.
Seeds Of Destiny 17 May 2022: The Necessity Of Soul Winning
Reviewed by
AmbyDennis
on
May 17, 2022
Rating: