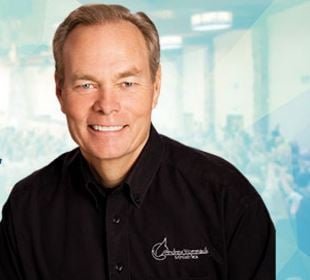 Andrew Wommack Devotional 16 November 2022 – Healing Is An Expression Of God's Mercy
Click HERE for Previous Devotional
Topic: Healing Is An Expression Of God's Mercy
Luke 22:51 'And Jesus answered and said, Suffer ye thus far. And he touched his ear, and healed him.'
Jesus often healed people by touching them, and others received their healing as they touched Jesus. You can transmit the power or the anointing of God through the laying on of hands (Mk. 16:18; Heb. 6:2). The virtue of God can even be transmitted to objects and then brought to the person who needs healing or deliverance.
Jesus provided physical healing as well as forgiveness of sins. Many scriptures mention the healing of our bodies in conjunction with the forgiveness of our sins. Healing is an expression of God's love and compassion for our physical man. Healing miracles also draw men to God to get their spiritual needs met. Physical healing acts like a bell to get man's attention so that the Lord can minister to the inner man as well.
Healing has been purchased for us as part of the atonement of Christ. The Lord would no more refuse to heal us than He would refuse to forgive us. That does not mean that we deserve healing – we don't. It is a gift from God, just as salvation is a gift from God (Rom. 6:23; Eph. 2:8). We don't deserve to have our sins forgiven. We cannot demand salvation from the Lord, but we can expect it. Likewise, healing has been purchased for us through the atonement of Christ. Healing belongs to us, but it is still the mercy of God that provides healing. Every act of healing is an act of mercy.
This message was written by The Association of Related Ministries International (ARMI) is an extension of Andrew Wommack Ministries (AWM). ARMI is a unique partnership committed to providing resources to help like-minded ministers succeed in a spirit of excellence and to draw from the experience and expertise of both the AWM and Charis Bible College staff. (www.awmi.net).
Ambydennis Notice Board: Until you are born again, God ever abiding presence will never be with you. You must be born again to enjoy continuous victory. Please say the displayed prayer below in faith:
Lord Jesus, come into my life. I accept You as my Lord and Personal Saviour. I believe in my heart You died and rose from the dead to save me. Thank You Lord for saving me, in Jesus name Amen.
If you just prayed the prayer of salvation online please send your testimonies and prayer request to info@awmi.net, 1-719-635-1111.
Andrew Wommack Devotional 16 November 2022 – Healing Is An Expression Of God's Mercy
Reviewed by
AmbyDennis
on
November 16, 2022
Rating: