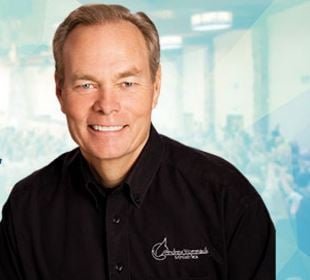 Andrew Wommack Devotional 8 November 2022 – You Have It All–in The Spirit
Click HERE for Previous Devotional
Topic: You Have It All–in The Spirit
Matthew 26:41 'Watch and pray, that ye enter not into temptation: the spirit indeed is willing, but the flesh is weak.'
Matthew 26:41
The Bible presents salvation as a life transforming experience. Change is one of the distinguishing characteristics of a true believer. Yet, failure to understand that this change takes place in the spirit first, and then is reflected in our outward appearance through our thoughts and actions in direct proportion to the way we renew our minds, causes much confusion.
This change has to take place in our born-again spirit first. Why is that? If you were fat before you got saved, you will be fat after you get saved, unless you go on a weight loss program. Your body doesn't instantly change and neither does your soul or mind.
It is your spirit that is instantly changed at salvation. It is perfect (Heb. 12:23). It cannot sin (1 Jn. 3:9). Everything that is true of Jesus is true of our born-again spirit. Your spiritual salvation is complete. At salvation, you receive the same spirit that you will have throughout all eternity. It will not have to be changed or cleansed again. It is sealed with the Holy Spirit (Eph. 1:13) and therefore, is sanctified and perfected forever (Heb. 10:10, 14; 12:23).
For the remainder of our Christian life, we must not try to obtain faith, joy or love from God, but rather release what we already have in our spirits (Gal. 5:22-23) into our soul and body. Failure to understand this has caused some people to despair when they don't see sufficient change in their life after coming to the Lord for salvation. It must be understood that the change is internal in our spirit and the outward change will take place as we renew our minds through God's Word.
This message was written by The Association of Related Ministries International (ARMI) is an extension of Andrew Wommack Ministries (AWM). ARMI is a unique partnership committed to providing resources to help like-minded ministers succeed in a spirit of excellence and to draw from the experience and expertise of both the AWM and Charis Bible College staff. (www.awmi.net).
Ambydennis Notice Board: Until you are born again, God ever abiding presence will never be with you. You must be born again to enjoy continuous victory. Please say the displayed prayer below in faith:
Lord Jesus, come into my life. I accept You as my Lord and Personal Saviour. I believe in my heart You died and rose from the dead to save me. Thank You Lord for saving me, in Jesus name Amen.
If you just prayed the prayer of salvation online please send your testimonies and prayer request to info@awmi.net, 1-719-635-1111.
Andrew Wommack Devotional 8 November 2022: You Have It All–In The Spirit
Reviewed by
AmbyDennis
on
November 08, 2022
Rating: