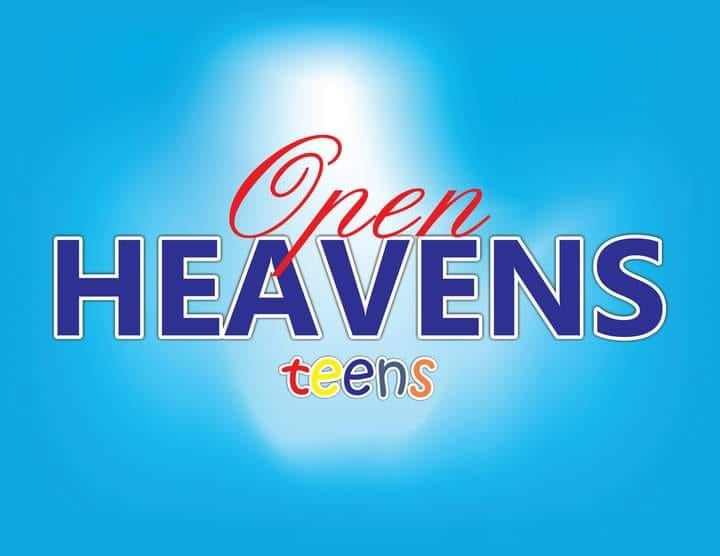 Open Heaven For Teens 23 November 2022 – Help From Above I
Click HERE for Previous Open Heaven Devotional for Teens
TOPIC: Help From Above I [Open Heaven for Teens 23 November 2022]
MEMORISE: My help cometh from the LORD, which made heaven and earth. Psalms 121:2
Also Read: Open Heaven 23 November 2022 – Run From Flatterers
READ: 2 Chronicles 20:1-13
It came to pass after this also, that the children of Moab, and the children of Ammon, and with them other beside the Ammonites, came against Jehoshaphat to battle.
Then there came some that told Jehoshaphat, saying, There cometh a great multitude against thee from beyond the sea on this side Syria; and, behold, they be in Hazazontamar, which is Engedi.
And Jehoshaphat feared, and set himself to seek the LORD, and proclaimed a fast throughout all Judah.
And Judah gathered themselves together, to ask help of the LORD: even out of all the cities of Judah they came to seek the LORD.
And Jehoshaphat stood in the congregation of Judah and Jerusalem, in the house of the LORD, before the new court,
And said, O LORD God of our fathers, art not thou God in heaven? and rulest not thou over all the kingdoms of the heathen? and in thine hand is there not power and might, so that none is able to withstand thee?
Art not thou our God, who didst drive out the inhabitants of this land before thy people Israel, and gavest it to the seed of Abraham thy friend for ever?
And they dwelt therein, and have built thee a sanctuary therein for thy name, saying,
If, when evil cometh upon us, as the sword, judgment, or pestilence, or famine, we stand before this house, and in thy presence, (for thy name is in this house,) and cry unto thee in our affliction, then thou wilt hear and help.
And now, behold, the children of Ammon and Moab and mount Seir, whom thou wouldest not let Israel invade, when they came out of the land of Egypt, but they turned from them, and destroyed them not;
Behold, I say, how they reward us, to come to cast us out of thy possession, which thou hast given us to inherit.
O our God, wilt thou not judge them? for we have no might against this great company that cometh against us; neither know we what to do: but our eyes are upon thee.
And all Judah stood before the LORD, with their little ones, their wives, and their children.
BIBLE IN ONE YEAR: James 5:1-20, Ezekiel 29-31
MESSAGE:
King Jehoshaphat was in a difficult situation as three strong nations gathered against him. In strength, he couldn't match them. In ammunition, there was no way he could stand them and their soldiers outnumbered his. He thought of no other person to turn to for help but God. When you are in a difficult situation, who do you turn to? Jehoshaphat could have run to his friends for help, instead, he turned to God. In verses 4-6 of today's Bible reading, he reminded God of all the things He had done in the past and Who He is. In other words, he praised God.
Many times, people barge into the presence of God to make a request as if He is their mate. This is not an attitude expected of someone that needs help. Imagine that your friend asked you to buy him/her a book and snacks. You forgot the book and bought the snacks, but rather than thank you first, he/she only complained about the book you forgot to buy. Would you be happy? Yet, this is the attitude many people put up before God. Psalms 100:4 says you should enter into His gates with thanksgiving.
Anyone who needs divine help must be appreciative of what the Lord has done for him/her in the past.
KEY POINT
When you thank God for past blessings, you will receive new ones.
HYMN: There Shall Be Showers Of Blessing
"There shall be showers of blessing:"
This is the promise of love;
There shall be seasons refreshing,
Sent from the Saviour above.
CHORUS
Showers of blessing,
Showers of blessing we need:
Mercy-drops round us are falling,
But for the showers we plead.
"There shall be showers of
blessing,"
Precious reviving again;
Over the hills and the valleys,
Sound of abundance of rain.
"There shall be showers of blessing;"
Send them upon us, Oh Lord;
Grant to us now a refreshing,
Come and now honour Thy Word.
"There shall be showers of blessing:"
Oh, that today they might fall,
Now as to God we're confessing,
Now as on Jesus we call!
"There shall be showers of blessing,"
If we but trust and obey;
There shall be seasons refreshing,
If we let God have His way.
Daily Devotional for Teen's guide was written by Pastor E.A. Adeboye, the General Overseer of the Redeemed Christian Church of God, one of the largest evangelical church in the world and also the President of Christ the Redeemer's Ministries.
Open Heaven For Teens 23 November 2022 – Help From Above I
Reviewed by
AmbyDennis
on
November 23, 2022
Rating: